Virtual Reality is the buzzword across many sectors and the gambling industry is no exception to it. This revolutionary technology has made its way into online gaming such as Play Roulette Game at Cosmic Spins. This blog post will give you an insight into the working of Virtual Reality in casinos.
What Are Virtual Reality Casinos?
Virtual Reality casinos are an advanced version of online casinos, offering a convenient and realistic gaming experience to their customers. These casinos are aimed at letting gamblers play their favourite casino games in a realistic environment. As the iGaming industry has reached its significant growth in recent years, online casinos are trying to offer exceptional possibilities for players who prefer comfort and effectiveness instead of the traditional gambling halls. After registering for an account at a Virtual Reality casino, players can access their favourite games in a matter of seconds. Also, these casinos allow players to gamble in a three-dimensional environment and interact with other players in real-time.
How Does a VR Casino Work?
With recent advancements in both VR hardware and software, Virtual Reality casinos go beyond mere pseudo-3D interfaces and take gamblers right onto the casino floor. By using a VR headset and a compatible VR iGaming platform, gamblers can enjoy a lifelike and interactive casino experience from the comfort of their home. Below are the following features that VR casinos offer:
Casino game rooms which gamblers can walk through explore in fully immersive 3D.
3D game tables, where you can take your seat and interact with the live dealer as well as other players.
The ability to display gestures and to observe those of other gamblers.
Realistic sounds and in-game chats.
You can even stop at the bar to have a drink or sit in the lounge and interact with other players. As opposed to gamified casinos, developers are trying to make the VR experience as lifelike as possible. In order to gamble at Virtual Reality casinos, you'll need VR goggles and a powerful computer or laptop. Keep in mind that the VR games will not work without compatible goggles. In some cases, you may be able to test out the games without goggles, but the experience would nowhere be as immersive as it would be with them.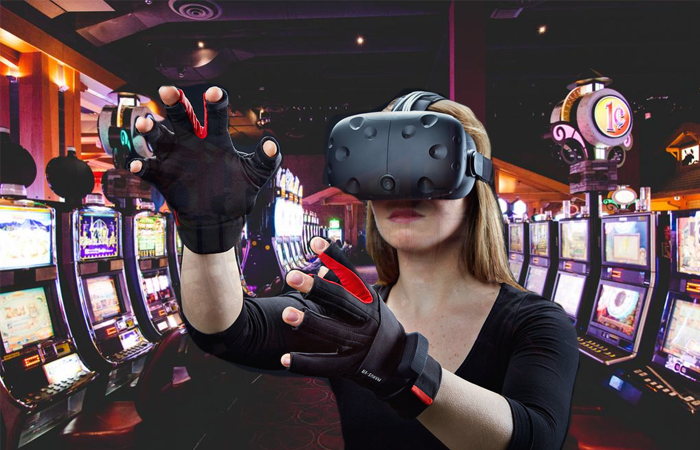 Recommended Computer Specs to Gamble in VR Casinos
It's important to ensure that your computer has the required specifications as you won't get a fully immersive experience without them. If you're really interested in VR gambling, it would make perfect sense to invest in proper computer set-up and VR goggles in order to avoid compatibility issues. Here are the required Specs:
Windows 7SP1 or above
At least 8GB RAM
Intel i5-4590 or higher
2x USB 3.0 ports and HDMI 1.3
NVIDIA GTX 970 / AMD 290 or higher
The Future of VR Casinos
The current effort of gamblers is to simulate land-based casinos and there will be strong growth in this area in the coming years. Also, as VR gear and smartphone technologies improve, we'll surely see a better performance from phone-based gadgets.